Malko Tarnovo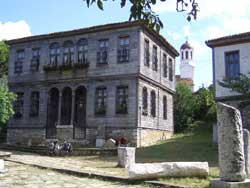 Malko Tarnovo Municipality is in the most distant southeastern part of Bulgaria, in the heart of Strandzha Mountain. It is in Bourgas District at a distance of 76 km from the District center city of Bourgas. It is the third largest municipality in Bourgas district. The relief of the Municipality is hilly and low-mountainous. In spite of the small altitude above sea level the relief is varied and attractive. In terms of bio-climate the region holds substantial resource for climatic treatment. Two of the cleanest rivers in Bulgaria flow through it - the Veleka River and the Rezovska River. The transport infrastructure is relatively well developed.
The whole Municipality falls within the territory of the Strandzha Natural Park. The Vitanovo and Sredoka reserves are in Malko Tarnovo Municipality, as well as the protected areas Veleka, Paroria, Roudinovo and Dokouzak.
The ravishing nature of Strandzha Mountain in Malko Tarnovo Municipality has preserved unique archeology monuments of the Thracian and Roman culture.
Quick facts about Municipality Malko Turnovo
Other transcriptions: Malko Tarnovo
In Bulgarian Aplhabets: Малко Търново
Location: South-East Bulgaria
Province: Bourgas District
Area size of Malko Turnovo municipality: 798.5km2
Population of Malko Turnovo municipality: 4194 people
Total Towns and Cities in Malko Turnovo municipality: 1
Total Villages in Malko Turnovo municipality: 12
The town of Malko Turnovo (about 340 m above sea level) is former copper-mining town lying in a bowl surrounded by hills in Strandzha Mountain near the Turkey border. It is some 470 km south-east of Sofia, 83 km south of Bourgas, 58 km south-west of Tsarevo, and 9 km north-east of the checkpoint of the same name at the border with Turkey. Guard of the Bulgarian spirit in the region of Strandzha Mountain.
All roads in the Strandzha lead to Malko Turnovo. It`s a down-at-heel place where tourism was never encouraged in the past due to the proximity of the border with Turkey.
Malko Tarnovo is overrun with Bulgarian, Romanian and Ukrainian tourists on the way to Istanbul.
A small collection of National Revival buildings huddles above the main square, four of which together serve as a town museum, including ethnographic and icon collections.
Quick facts about Town of Malko Turnovo
Other transcriptions: Malko Turnovo
In Bulgarian Aplhabets: Малко Търново
Location: South-East Bulgaria
Distance to capital city: 355.13 km from Sofia
Latitude: 41.983N
Longitudee: 27.533E
Altitude: 300 - 499m above sea level
Province: Bourgas District
Municipality: Malko Turnovo Minicipality
Area size of Town of Malko Turnovo: 137.687km2
Population of Town of Malko Turnovo: 2766 inhabitants (to 31 Dec 2004)
Post code (ZIP) of Town of Malko Turnovo: 8350
Phone code of Town of Malko Turnovo: 05952 from Bulgaria, 003595952 from outside